90 Day Collagen Capsules
Energy | Tiredness | Fatigue
90 Tablets | 90 Day Supply
On-the-go beauty boosters with collagen, hyaluronic acid and biotin to nourish your hair, skin and nails.
Take 1-2 capsules a day for at least a month for smoother, plumper skin. Let your skin glow ✨
Regular price

£44.97

Sale price

£34.99
How to use

Consume 1 to 2 capsules at any time during the day. Do not exceed recommended daily intake.
Ingredients

Bovine Collagen, Capsule Shell (Hydroxypropyl

Methylcellulose), Vitamin C (Ascorbic Acid), Anti-Caking Agents (Magnesium Stearate, Silicon Dioxide), Sodium Hyaluronate (90% Hyaluronic Acid), Sodium Selenite, D-Biotin.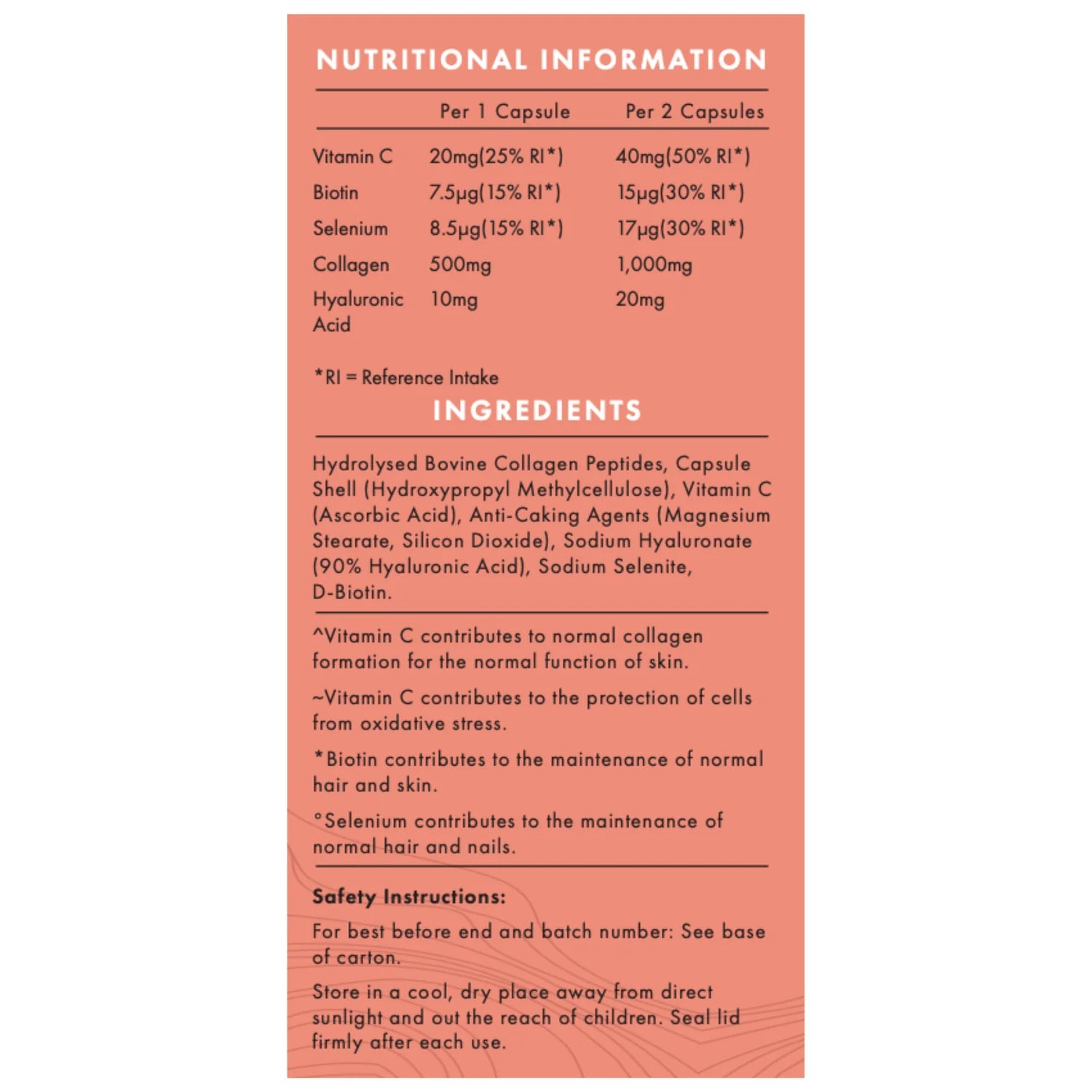 How to take
Snap a before image
Take 1-2 capsules a day
Snap an after image and send to us!
Snap a before image
Take 1-2 capsules a day
Snap an after image and send to us!
500mg Collagen
Supports the skin's firmness, reducing wrinkles and promoting youthful skin.
10mg Hyaluronic Acid
Enhance skin's moisture retention and supports collagen production.
20mg Vitamin C
Protects against environmental damage and brightens complexion.
7.5μg Biotin
Supports keratin production, leading to stronger hair, skin and nails.
8.5μg Selenium
Protects skin from oxidative stress, promoting a radiant complexion.
What is collagen?
Collagen, an essential protein within our bodies, serves as a foundational element that imparts strength and structural support to critical tissues. The natural decline in collagen production as we age results in the emergence of fine lines, wrinkles, and the weakening of hair and nails.
Not only does collagen assume a crucial role in preserving skin elasticity and moisture levels, but it also actively contributes to the overall well-being of joints, diminishing stiffness and discomfort.
Recommended by experts
"Huge fan of all the YGHC products because not only are they all science led but all their supplements are effective AND affordable. What I love the most is the 'on trend' variety they have on offer which is so fitting for every young professional female today."
Why subscribe?
Although many of our customers see results in only 30 days, it can take up to 90 days for collagen to fully show its hand.
It can take a little extra time to work its magic if you're on the older side, so we recommend taking the supplement for at least 90 consecutive days so you can see the full benefits before judging the results.