Collagen Hot Chocolate
20 Servings | 20 Day Supply
Regular price

Sale price

£19.99
how to use

Mix 8g of Collagen Hot Chocolate powder (1 scoop) with 200ml of hot water or your preferred milk or milk alternative. Stir until dissolved and enjoy. Consume 1 serving as part of your night time routine. Do not exceed daily recommended intake.
ingredients

Hydrolysed Bovine Collagen Peptides, Cocoa Powder, Magnesium Citrate, Ascorbic Acid (Vitamin C), Lemon Balm Extract, Zinc Citrate Dihydrate, Chamomile Extract, Flavouring, Sweetener (Sucralose), Salt, D-Biotin.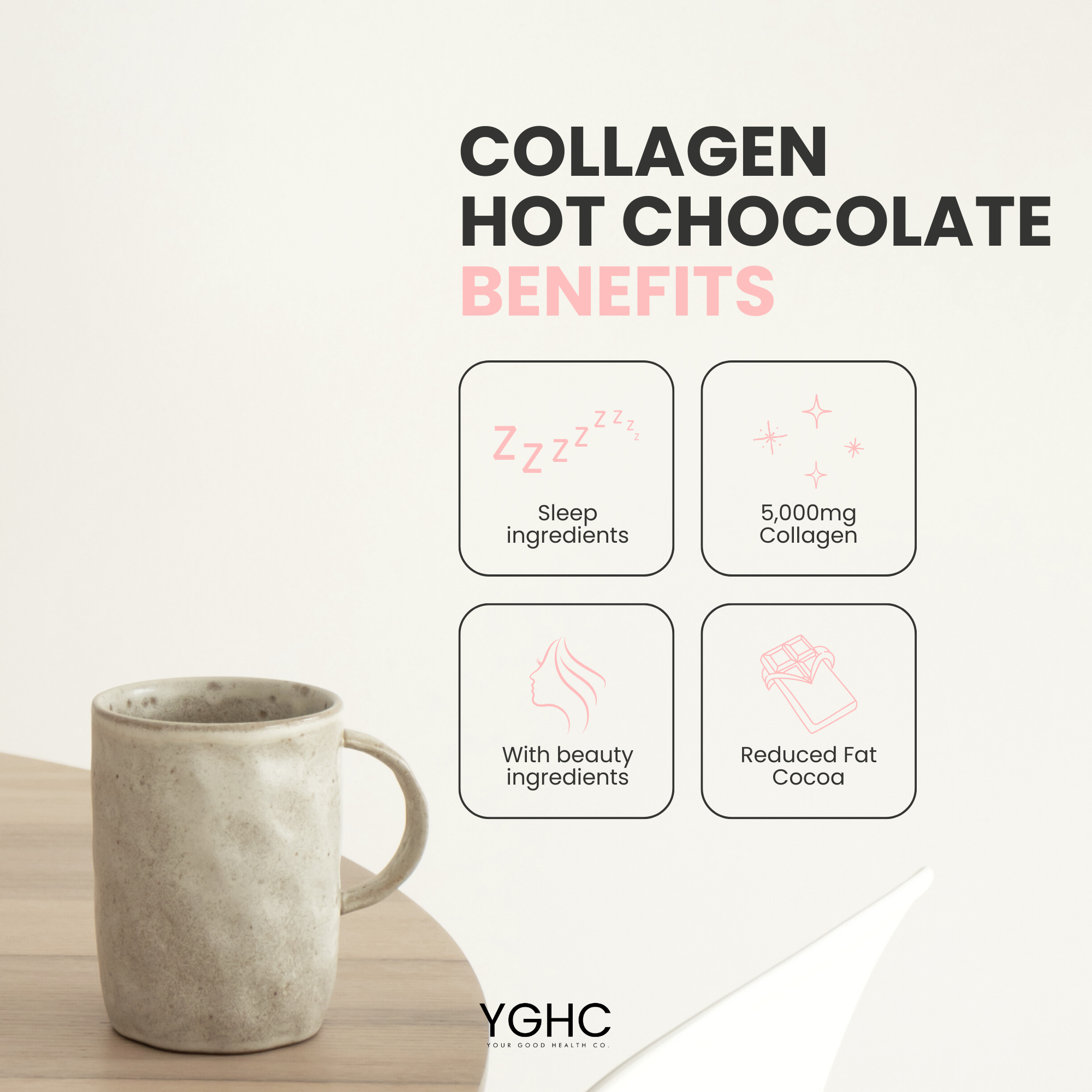 5,000mg Collagen
Responsible for creating smooth and youthful skin, as well as maintaining healthy joints.
100mg Lemon Balm
A herb known for its ability to promote relaxation, peace and help de-stress.
100mg Chamomile
A soothing herbal remedy that calms the senses and promotes a deep sleep.
187.5mg Magnesium
Promotes relaxation and helps to soothe joints and muscles.
25µg Biotin
Strengthens and thickens weak hair and nails.
Zinc
Empowers your body's defence system and supports a healthy metabolism.
How to take
Snap a before image
Enjoy one mug a day
Snap an after image and send to us!
Snap a before image
Enjoy one mug a day
Snap an after image and send to us!
Why take collagen at night?
When you sleep, your body produces growth hormones. These growth hormones stimulate collagen production.
As collagen production takes place whilst we sleep, having our relaxing hot chocolate an hour before bed can be an effective way to wind down whilst encouraging your beauty sleep.
Recommended by experts
"Huge fan of all the YGHC products because not only are they all science led but all their supplements are effective AND affordable. What I love the most is the 'on trend' variety they have on offer which is so fitting for every young professional female today."
Why subscribe?
Although many of our customers see results in only 30 days, it can take up to 90 days for collagen to fully show its hand.
It can take a little extra time to work its magic if you're on the older side, so we recommend taking the supplement for at least 90 consecutive days so you can see the full benefits before judging the results. 
Or, how about stocking up with a 60-day bundle?